A refresher for those of you just tuning in: Ciocia means Auntie in Polish. It's pronounced Chuh-Chuh. My sister-in-law, in the family for 18 years, was so dreadfully afraid she was mispronouncing it like Spanish swear word that she refrained from using it. She just mastered it a few years ago. So don't worry, you still have time to practice.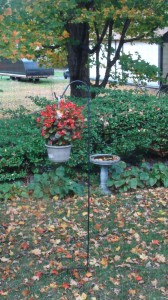 This is the view outside the kitchen table window where my parents and Ciocia Felicia (she lives with them by the way) enjoy the backyard view. The window also serves as an observation tower from which they strategically plot against two enemies: the squirrels and the woodchucks.
My family members are live and let live people but when the squirrels started eating the bird seed in the winter and the woodchucks decimated Ciocia's tomato plants in the summer, lines were drawn. Mom and Ciocia began their daily surveillance. This involved mid-sweep pauses as they cleaned the kitchen to watch for movement outside the window. If they had access to infrared goggles, there would have been a night shift.
During the day, Mom kept one eye out over the sink window while she washed dishes. If she noticed a woodchuck she'd plunk the dish down and start muttering things that shouldn't be repeated. Felicia would already be slipping on her flip flops to run outside. I think she was hoping for some hand to hand combat to settle this once and for all. After all, they ate all her tomatoes that year.
When Mom and Ciocia realized that the woodchucks had an acute sense of hearing, they started banging on the windows. It saved them from running outside each time they appeared. That got old pretty fast. When the banging stopped scaring the woodchucks off, Mom and Ciocia started making their own sounds to make things louder.
To an outsider, it may have looked like my mom and Ciocia were trying to be let out of their own house.
The woodchucks started multiplying. Started getting bolder. One blatantly sunned itself on the stone wall. It was all my mom could take.
They started going back outside to scare them.
And then…
My mom started barking.
Let me just say, that pretending to bark in Polish sounds different than in English. If you don't believe me make your bark sound right now and then tap the next foreign person you meet and ask them to bark for you. I'm just saying. It is its own translation. My mother's sounds something like a cross between a lonely wolf and someone walking on hot coals.
Her barking had no effect on our pudgy brown woodchucks at first. So she persisted barking in the back yard louder and louder. Until the next door neighbor who had been sitting on his back deck, stood up and looked over the tall hedge separating the yard and said,
"Everything okay Halina?"
My mother laughed so hard when she told us, she moved herself into a coughing fit.
"Oh my god Mom, did you tell him why you were out there?" I asked, wondering if I should start wearing a hat and dark sunglasses when I drove onto their street.
"I tell him. We havin' good laugh."
The barking stopped because the have-a-heart-traps came in…and eventually foxes.
When winter came and the squirrels moved in on the bird feeder, that's when Brigadier General Ciocia Felicia really started proving her mettle.
To be Continued…