I'm not sure what I was expecting. Log cabins? Clapboard houses? Architecturally all the buildings are in adobe-style. It was like nothing I'd ever seen before. I thought if I left the historic downtown district the city would morph like most old cities do-the middle stays ancient looking while the outer reaches look like a commercial from Home Depot.   But even new housing developments in the suburbs have the adobe-look.  It's both interesting and slightly disorienting to see the same earthy exterior everywhere.  You can visually feel lost. But at every turn, you know you are in Santa Fe. It's beautiful in an unusual way.
For how impenetrable the outside of an adobe looks, I can't help but feel there is something warm going on inside: people talking, cooking and life's intimacies happening close to the hearth. I wanted to find out what's in there. It gave me the sense that Santa Fe has a particular tough sun baked exterior and a very rich private interior. I fall in love with people just like this.  But as easily as I'm drawn to unravel a mystery of the quiet-type, I'm equally confounded by it.   I'm guessing it takes time to infiltrate Santa Fe at its heart, to get beyond the façade of tourism and really know its people but with only 4 days, I wasn't going to find out for sure.
It's not the kind of place with hearty handshakes and ' C'mon inside!' (Except for my friends who opened their home to me. Thank you!!) It's more like a place where the land takes you in first, people second.  There is no denying that the landscape is a character to know.  Maybe the majesty of the Sangre de Christo Mountains (Spanish for Blood of Christ) and the other ranges collectively bind the community together. I can see why people are drawn to this place.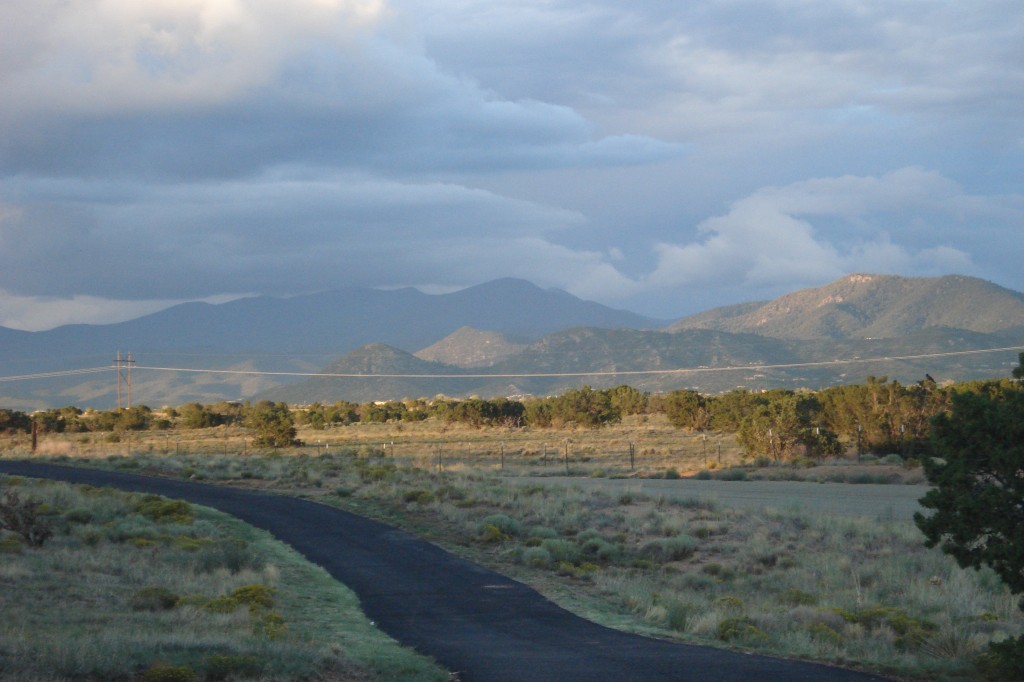 You must cruise The Plaza, at least once, for the magnificent turquoise jewelry, cowboy boots and sparkly belts. I was not prepared for the outrageous price tags that went along with them. The stuff in glass cases, as you can imagine, was thousands and thousands of dollars. It's good that browsing is still free. I did plenty of that.  I casually picked up earrings and had to blink several times to make sure my contacts weren't fuzzing up the wrong decimal place. The prices are whistle-worthy.
There were other shops that had more affordable jewelry, but unique certainly carries its own price tag. The high-end designs and craftsmanship were truly awesome, something to behold. I came across a turquoise pendant the size of a Whoopie Pie!
The Plaza. The oldest church. The oldest house. The miracle staircase.  All of this was really great to see, but you know what I wanted to see more than gazillion dollar necklaces? I wanted to find an honest to goodness antique junk shop. The kind my romantic eye imagined exists in a place like Santa Fe.  You know the kind, a ramshackle house filled with bric-a-brac and the possibility of needing a tetanus shot if you reached into a pile haphazardly. A treasure is sure to be in the midst.
It takes an insider's insider to know about a good junk shop and most likely a trip to a place not on my map. In Raton, I asked the kindly desk clerk and she pointed to an antique shop next to the Kentucky Fried Chicken. I drove over to it but could see it was closed. I even tried to stop there on my way back to Denver. Still closed. Maybe if I knocked someone would have emerged?  That's okay, a little disappointment keeps the heart yearning. I know hidden treasures are out there.
What was not to be found at a junk shop, was made up easily with the "Local favorite"  Green Hatch Chili infused Margarita I had on the rooftop of the Coyote Cantina. Spicy! Easy! Gave me the feeling I was wearing those kick-ass skull boots but wasn't. Likely the kind of drink that gets people in all kinds of predicaments. The food was d-e-l-i-c-i-o-u-s. Best tacos I've ever eaten. You could make food your sole itinerary in Santa Fe and look forward to all your excitement happening on a plate.
There's so much to write about and hard to condense….I have at least one if not two more installments to write about this trip and it includes my faux pas at a museum. Lord help me. That needs its own post. Stay tuned. Until then, how do you think this necklace would look on me?