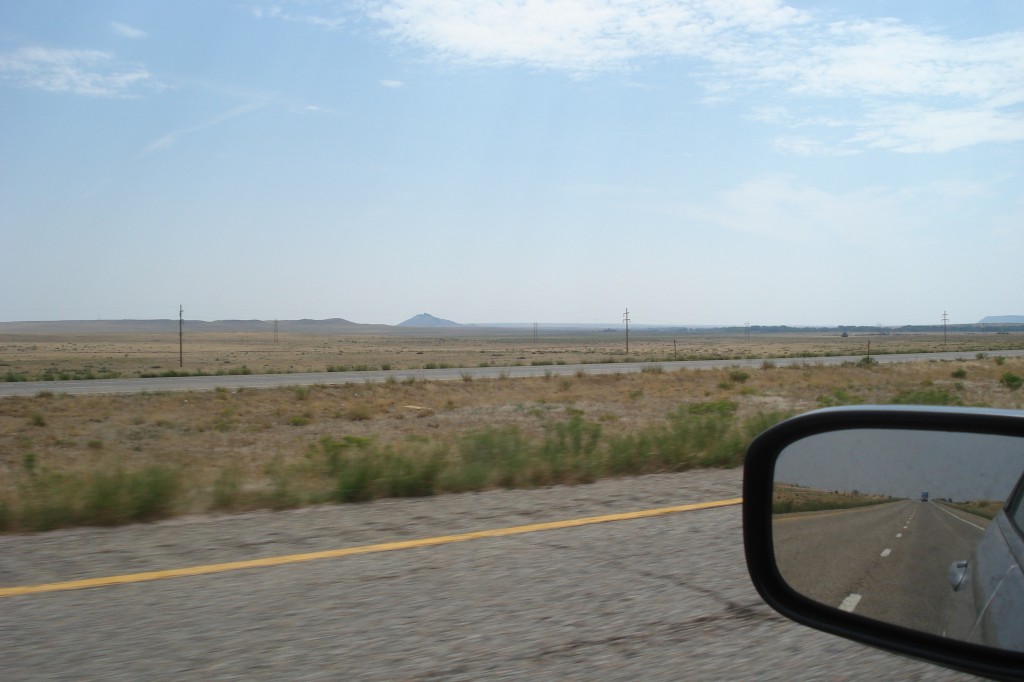 Last Wednesday I hit the road for New Mexico.  I grabbed my little red cooler, two handfuls of cds and forgot to apply sunscreen.  Nothing reminds you of changing skin tones quite like the fluorescent lights of a gas station restroom.  Aside from the toasty face and left arm, the 6 ½ hour ride down Rte. 25 South went roof tapping good.
Once I passed through the morning commuter traffic, I encountered fewer and fewer cars, until it seemed I broke free of my contained life and opened up to the vast yellowy plains with paper mountain cut-outs in the distance. It was serene. People complain that some of this ride can get boring, but I couldn't have been more dazzled by the changing clouds and the open space.
The posted speed limit is 75mph. I thought about how Sammy Hagar used to sing, I can't drive 55, olden times, I guess.
I passed by the occasional RV towing a car in the back or a few long haul truckers. For the most part, the road was mine. Two lanes in the open land.
On a road this spare, it's easy to notice a roadside memorial for those who made an untimely departure in an accident. I see these from time to time in Denver, but out on this almost 400 mile road trip I came to see so many, I started counting.  I think I got up to 17 just in the south bound lane.  Simple white crosses stood knee high affixed with silk flowers and hand lettering; another had butterflies and yet another had a girl's name spelled out in a curve of metal letters. Each seemed to capture a little bit of personality, like the one yellow safety vest flapping on a cross- a vest just like I saw the road workers wearing.
Most were singular crosses, but then I saw sites that had 3 crosses in one place. Two big. One little. It's hard not to wince.  I thought about the people who traveled back to these places to honor their loved ones, marking where their spirit left. These memorials gave off both warning and remembrance.
I was listening to Bruce Springsteen's Nebraska album on the way down and the lyrics from the song Atlantic City particularly moved me as I drove by these roadside memorials.
"Well now, evrything dies, baby, that's a fact
But maybe evrything that dies someday comes back"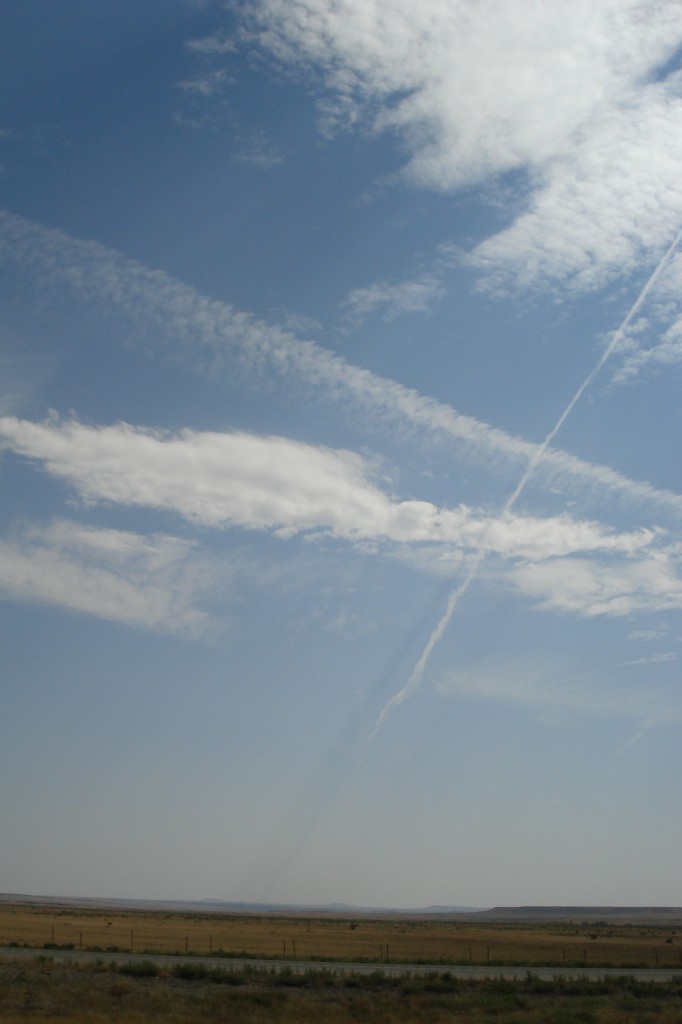 Sun in my face, arm out the window, the soulful harmonica hammered through me.  I nodded to something unknown. I turned up the volume.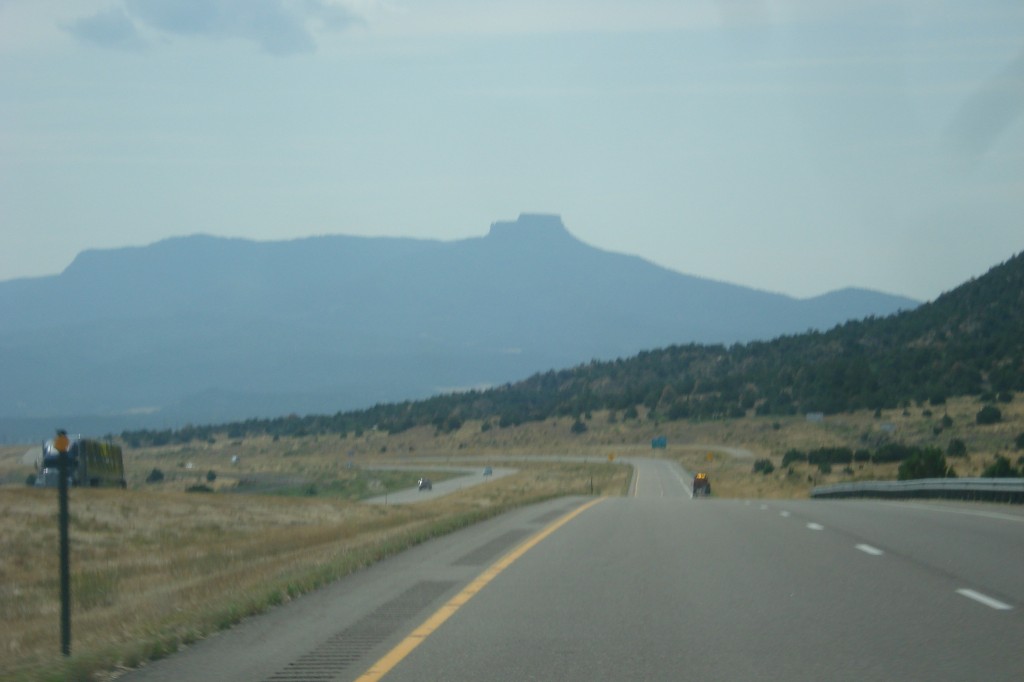 It bears mentioning that one of my first 5 minutes stops in NM was Raton. There are two things worth mentioning. They have old style motels here with old style prices. Maybe people sing I can't drive 55 here? Look at the pic below. $29.90! When's the last time you saw that price?  My cable bill is more than that.
Secondly and most importantly, at the Visitor's Center you can pick up a FREE plastic Deputy Sheriff's badge. Yup. Believe me; no child was more excited to pick one out than me.  I even said so to the two nice ladies at the desk when I signed their guestbook.  I only wish I could have heard their conversation afterward. What can I say? My new badge was my road talisman. My silver star.  I kept it near my gear shift.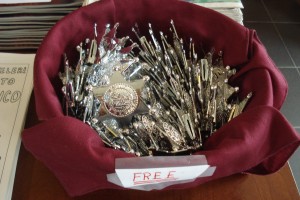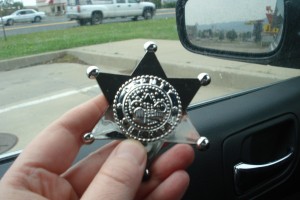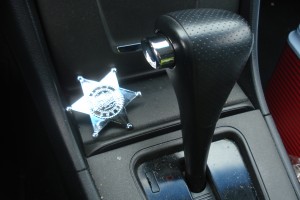 I was so excited to be on the road. To be on vacation. In the several hours I spent on the same highway, I came to recognize some of the same trucks and RVs by color, license plate. I felt like a kid again. As I passed another 18-wheeler, I had the split second urge to slow down, catch eyes with the trucker in the window, push my clenched fist up and down, like when I was a kid and wanted them to sound their horn. If I had a CB radio, I would have gleefully said, "10-4 little buddy. Smokies up ahead." In this kind of desolation, you watch out for each other.  But I thought better of making eyes at a trucker and yanking a fist up and down on a deserted road. Maybe he doesn't share my idealism.
To be continued…