I called Mom this morning and asked if I could interview her in honor of Mother's Day. She agreed. I told her she could answer in Polish or English, whatever came to her. I'm sure I've omitted some Polish accent marks, but I've tried to spell everything correctly and stay authentic to her voice. Mom's words as spoken to me.
Do you think you raised your kids like your own mother raised you?
Mmm. Almost. More spoil.
(We laugh.)
Babcia used to say to us Ja was nie zbije, was wzycia jecze beda nabije– I'm not going to beat you, miserable things in life will beat you.
Way to say it Grandma!
If I go back I could ja mysle chowalaby inaczeje– I think I'd raise you differently. I used to think I not that good mother. I don't know why. I don't pay too much attention. I so busy. We buy house. Three kids, we have to make the payments. I just go go go. I don't know how to bring up kids in this era, than in my childhood. Probably not understand my kids like I should. Well, I dunno. I try to be better. I wanna if my kids have life in a difference way.
Babcia used to say, Ty nawet nie wiecz jak woda zgotowac– You don't even know how to boil water. I understand her better to raise so many kids by herself. She used to adore people who didn't have children. Oh boy, I think our mother don't like us. I used to say to myself. Now I understand her better. If I see something I don't like from Babcia, I never want to put on you because I know how bad it is.
How was your Mother's Day breakfast at the restaurant this morning? (my oldest brother took her out)
Good. Very good. I had vegetables omelet and kartofle –potatoes. Good thing we go early. When we left there was big line. Big one line! I not exaggerate. Maybe 30 people. I say to Adam, Dziecko taki kolejki w Polce tylko byli za mięsem. Tyla godzin musieli stac. Kazdy stawal rano zeby dostac kawalek mięso. Ludzie prawie nie spali. – Child, these kinds of line in Poland were only for meat. We had to wait many hours in line. Everyone got up early in the morning to get a little piece of meat. People hardly slept.
That puts things into perspective for me.
Ya.
What are 10 things you wished you could cement into your kids' heads?
1.)Be good in the world
2.) Care about the others
3.) Help for the people who needs some help
4.) I always wish they are playing like some kind of musician. Oh yes, I like music.
5.) I always wish the better life. Bring the gwiazdka– star from the space for them. I live for my children. Honest to God. My kids are everything for me. No matter how older they gonna be. What kind they are. I live for my children. I really do.
6.) Don't forget where they come from.
Why is that important to you? I can't explain. If they grow up to be good people to value the life because what you have right now and what I have before is big difference. Big difference.
I used to don't have any bread, two or three months. Now you have bread every single day. That's why you have to hold and thanks God what we have these days. I always fight for the better future for you guys. If you get good school, education, more food.
(Mom's voice cracked at the word food.) So you don't have to go through what I went through. Even if you close your eyes, you couldn't know it close. I always thought I was dreaming.
7.) I always want if my kids look good. To dress up. I could never get through to them. They always say I old fashion. Put on a hat.
8.)Zeby nigdy nie uczyli sie klac. What's that? (laugh) Swearing. Now everything is F'n and F'n. I wanna if my kids never learn it. You ever hear us speak F in our house? No.  But they still learn.
9.) If you make the money, don't spend the money. Oh ya, Jannett. Ja bylam zawcze savers. – I was always a saver.
10.) Nie mogłem nic przymyslec. –I couldn't think of anything.
Nothing else?
Oh, I wish someday if I die, that my kids don't cry. You should say she's in a better place.
Ma, you're killing me, you always say that. Don't say that. Of course, I'm going to cry.
Why? Everyone have to die. Why do you have to be crying and crying. Be reasonable. For everybody sad, no matter. But some people get cuckoo. Be smart with that.
Do you think motherhood is complicated?
Probably it is complicated. If you use your brain correctly, it's less complicated. I so bad to make decisions. It eat me to death. I want to go further further to do the stuff right. Some people look at stuff, make decision and they are done. Not me.
Do you think you feel differently about motherhood now vs. when you had your first son? (My father was denied a visa from Poland at first and was only reunited with Mom and my oldest brother 2 months and 2 days after his birth.)
Yes, because if you never experienced with the babies, you just scared. Especially with first baby, Daddy wasn't here yet.
The baby cry, you cry. You don't know what's going on. Now, live and learn. If you gotta better life, you feel more secure with everything. If you are new mother, you don't know much about the baby. You are afraid to go to work and to feed them. That's not easy. These days people don't worry about nothing.
One word to describe how it feels to be a mother.
one word? (silence) I dunno. (silence) One word? Yes, one word. Hmm. Good.
Is there anything funny about motherhood?
It is. After the kids start to crawling and smiling, they do stupid stuff. It is happy time. And cuckoo time too. I always in the bad stuff, get something good from it. Do you?
Yes, I do.
What do you wish you asked your mother?
I never ask anything. We used to don't talk about those stuffs. Babcia just work work work. I never tell to my mother I love her. I regret to this time. Because we don't use the words I love you. Jak wojna byla (during the war) there was no one to talk to. She all alone. She had six kids. I didn't have good childhood. Not because she bad mother, she a very good mother, very good. But she had to survive. We could have died from starvation.
Do you want to say anything else?
I wish I could to tell to my kids, someday, if I not gonna be in this world for them to be together. That's my wish. I am mother every day. Don't forget. Don't have to be once a year.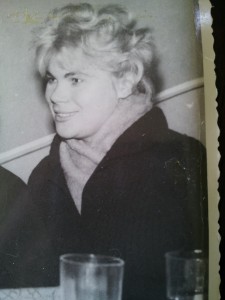 I love you Mom. Thank you.